Infobox
Price
$ 75,000
Staff required
11 employees
Energy units consumed
45 units
XP gained for constructing
180 XP
Size
5x5 tiles
Time to 100% accumulation
3:00:00
Must be placed on
Land
Road required
Yes
Max number of facilities
Unlimited
Available from
XP Level 13
Related awards
#257, I Want to Believe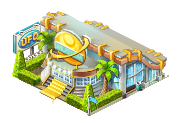 Production
Produces
Meteorite Lump: This lump is a veritable piece of history! A large collection of these lumps is kept at UFO Restaurant Museum.
Cost
60 minutes
250
Sale
Pavilion
$340 and 1XP
Use
Produces in Casino Crystal.
Construction / Upgrading
Income
Repair
Yield/hour/tile
Costs
Time
Initially
$ 75,000
6:00:00
$ 1,800
6
$ 7,500
10
$ 16
0.09
Level 1
$ 18,750
3:00:00
$ 2,069
7
$ 9,000
10
$ 18
0.1
Level 2
$ 31,875
3:54:00
$ 2,380
8
$ 10,800
11
$ 21
0.11
Level 3
$ 54,187
5:04:12
$ 2,737
9
$ 12,960
11
$ 23
0.13
Level 4
$ 92,118
6:35:27
$ 3,148
10
$ 15,552
12
$ 26
0.14
Level 5
$ 156,601
8:34:05
$ 3,620
11
$ 18,662
12
$ 29
0.15
Profitability per hour per tile at Level 5
Totems of
prosperity →
At 70% accumulation
At 100% accumulation
0
1
2
3
0
1
2
3
Oracles
of
fortifi-
cation
0
$ 21
$ 26
$ 31
$ 35
$ 29
$ 34
$ 39
$ 43
1
$ 24
$ 29
$ 33
$ 38
$ 31
$ 36
$ 40
$ 45
2
$ 27
$ 31
$ 36
$ 40
$ 33
$ 38
$ 42
$ 47
3
$ 29
$ 34
$ 39
$ 43
$ 35
$ 39
$ 44
$ 49