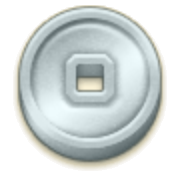 Thalers are a new type of coin introduced in the iOS (not iPad) version 2.2.6 of the game. They are ancient coins found during expeditions launched from the
Expedition Center
and can be spent in a new special section of the store.
Collecting Thalers
Each expedition has a chance of finding Thalers. The chance varies depending on the expedition members and the location. See the Expedition Center page for more details on this.
Spending Thalers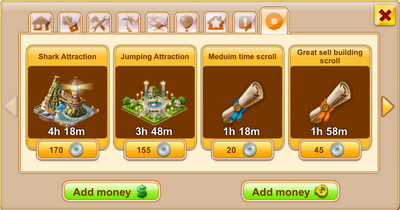 Thalers are spent in a new section of the store.
There are six slots in the Thalers store. The first two seem to be dedicated to buildings. The second two appear to contain scrolls and batteries. The last two appear to contain gems and recipes.
Items appear for a limited time in each slot, before being removed and replaced with a new item. If you see different combinations to this, please let us know. The time left in the store and delivery times for new items are displayed below the item's graphic.
For details of the

cost for
gems
and
scrolls
, please see their respective pages. Buildings and tourmaline are shown below.
Buildings in the store
Know the cost of another building? Please add it here or let us know in the comments.
Recipes in the store
| | Recipe name | Cost in |
| --- | --- | --- |
| | Small Tourmaline recipe | 45 |
| | Tourmaline recipe | 50 |
Community content is available under
CC-BY-SA
unless otherwise noted.