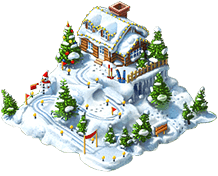 Construction / Upgrading
Income
Repair
Yield/hour/tile
Costs
Time
Initially
50
0:00:00
$ 185,000
85
$ 600,000
$ 112
0.07
Level 1
10 , 5 , 2 , $ 750,000
12:00:00
$ 222,000
90
$ 720,000
$ 134
0.08
Level 2
20 , 10 , 4 , $ 1,275,000
15:36:00
$ 266,400
95
$ 864,000
$ 161
0.08
Level 3
30 , 20 , 7 , $ 2,167,500
20:16:48
$ 319,680
100
$ 1,036,800
$ 193
0.08
Level 4
40 , 5 , 10 , $ 3,684,750
26:21:50
$ 383,616
105
$ 1,244,160
$ 231
0.09
Level 5
60 , 10 , 15 , $ 6,264,075
34:16:24
$ 460,339
110
$ 1,492,992
$ 278
0.09
Profitability per hour per tile at Level 5
Totems of
prosperity →
At 70% accumulation
At 100% accumulation
0
1
2
3
0
1
2
3
Oracles
of
fortifi-
cation
0
$ 238
$ 273
$ 309
$ 345
$ 278
$ 314
$ 350
$ 386
1
$ 251
$ 287
$ 323
$ 358
$ 287
$ 323
$ 360
$ 396
2
$ 264
$ 300
$ 336
$ 372
$ 297
$ 333
$ 370
$ 406
3
$ 278
$ 314
$ 350
$ 386
$ 306
$ 343
$ 380
$ 416
Construction / Upgrading
Income
Repair
Yield/hour/tile
Costs
Time
Initially
50
0:00:00
$ 110,000
47
$ 180,000
80
$ 76
0.04
Level 1
10 , 5 , 2
12:00:00
$ 132,000
48
$ 216,000
80
$ 92
0.04
Level 2
20 , 10 , 4
15:36:00
$ 158,400
49
$ 259,200
81
$ 110
0.04
Level 3
30 , 20 , 7
20:16:48
$ 190,080
50
$ 311,040
81
$ 132
0.04
Level 4
40 , 5 , 10
26:21:50
$ 228,096
51
$ 373,248
82
$ 158
0.04
Level 5
60 , 10 , 15
34:16:24
$ 273,715
52
$ 447,897
82
$ 190
0.05
Profitability per hour per tile at Level 5
Totems of
prosperity →
At 70% accumulation
At 100% accumulation
0
1
2
3
0
1
2
3
Oracles
of
fortifi-
cation
0
$ 177
$ 198
$ 219
$ 240
$ 190
$ 212
$ 233
$ 255
1
$ 181
$ 202
$ 224
$ 245
$ 193
$ 215
$ 237
$ 258
2
$ 186
$ 207
$ 228
$ 250
$ 197
$ 218
$ 240
$ 262
3
$ 190
$ 212
$ 233
$ 255
$ 200
$ 222
$ 243
$ 265

Notes:
To upgrade the 2012 version of this building you need to have the cash it would have cost to upgrade this building. The 'enough money to upgrade' check is still executed for this building, but your cash is not taken away after upgrading. These are the amounts of cash for all upgrade levels: $225,000 - $382,500 - $650,250 - $1,105,425 - $1,879,222.
This structure can only be built on the first island. If you click on the offer while on the second island (Android users only) you will get a message which reads "Santa's in love with the first half of the island. Let's not disappoint him and start the construction there."
When you build the haven click on the event icon with the snowman and click the Take Reward button. You receive several gifts including the Santa's Scroll. After that you can interact with the building just like any other structure (move it, upgrade it, put it in the warehouse, etc.).
Community content is available under
CC-BY-SA
unless otherwise noted.