Welcome to the Paradise Island HD Wiki!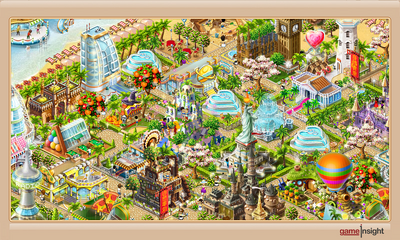 Paradise Island HD is the game for all sun and sea lovers! Tear yourself away from work and build your own sunny island! Is it time to make your own business? Just have some practice! Rich tourists are just about getting to your warm beaches! Entertain them in casinos and entertainment centers, restaurants and discos! Build your own empire of entertainment! Paradise Island has been developed for many platforms initially as Resort World for Facebook, with various ports for Android, iPad and other iOS devices, Macs, Kindle Fire and other platforms. This wikia was developed by the Android players based on the Paradise Island: HD edition and it is mostly maintained by Android players. The other platform editions such as Paradise Island: Exotic are very similar and iOS players also maintain this site and note minor platform differences.
This page is the starting page for your quest for information on Paradise Island HD. Follow the links below to reach all the interesting facts about the game's Awards and Structures. There is even a Tips & Tricks section for helping you out when you are having difficulties in the game.
Version 3.1.1 (May, 2015) for Android is here, bringing you better daily rewards, exact amount into idol, and more!
Version 2.7.0 (May 29, 2015) for iOS is here, bringing the lighthouse upgrade to iOS.
Buildings


Latest Special Events


All Special Events


World Wonder

Second part of the island


General information


General help


In-game features